Burlesque Map London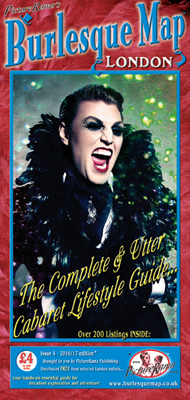 Burlesque Map London 2016/17
PictureRama Publishing presents edition 4 of Burlesque Map London.
Burlesque Map London is proud to present you a colourful and descriptive guide for a complete lifestyle of burlesque, retro and cabaret. It opens the doors to over 200 listings of shows, clubs, cafés, costumiers, hair and beauty, lingerie, fashion, tuition and much more.
Come in and glimpse at this world of glamour, theatrical adventure, saucy cabaret and salacious humour. There has never been a better time to explore our capital city, with its talent and originality.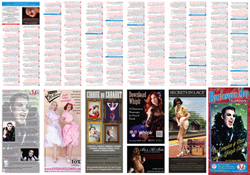 What are you looking for?
Don't encumber yourself with pages and pages of information, or days of internet research. Burlesque Map London provides you with a multitude of listings, so that you find your necessities.
The world of burlesque embraces more than shows and cabarets, and feather fans; it is a world where retro and vintage fashion comes to join the entertainment, so as to offer a panoply of accessories and a full lifestyle. Whether you are an advocate or a new convert, let your imagination and creativity flow and explore this fascinating world.
A new wave of shows and cabarets
These are exciting times, as shows in London are exploding with creativity, imagination and talent. From the burlesque to the boylesque, the vaudeville and the parody, and everything else we dare call cabaret, is a celebration of the best entertainment our wonderful and eccentric capital city exhibits.
With the Neo Burlesque Award and the Burlesque Idol, headlining newcomers, to the Cabaret Roulette and its new concept of a themed show chosen by the public, and many cabaret acts with their enthralling all-male casts, London is a treasure-filled world stage.
This is a world where our most loved performers will astonish you; they will make you laugh, they will make you cry; they will make you fall in love with them, or want to be them.
European festivals - Where to go…
Burlesque Map London presents a unique list of must-see European Festivals.
Europe is a multi-cultural stage for the exciting world of burlesque. With annual festivals and regular cabaret acts, you can harmonise holiday and show. Cultural tourism has its charm, and a city has much more to offer than history and architecture. We want to transport you on a journey that you won't forget.
Bruxelles, Amsterdam, Dublin, Paris, Stockholm, Helsinki, Berlin, Munich, Vienna, Geneva, Estonia, Warsaw, Milan, Rome, and Lisbon showcase the many facets of burlesque.
Edition 4 of Burlesque Map London is now available! Get your copy here!